Korean Concert Society Artists
Esther Park was chosen as the 2012 Kennedy Center debut recitalist, but cannot perform because she has been invited to participate in the Leeds Piano Competition. KCS congratulates Esther on this opportunity and is pleased to announce that alternate Irene Kim will perform instead.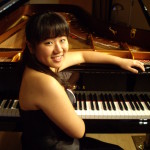 Pianist Esther Park has performed as a soloist with orchestras and in recitals across the United States as well as Asia and major European cities. Ms. Park has appeared as soloist with many orchestras such as Houston Symphony, Corpus Christi Symphony, Filharmonia Pomorska, Poland, Orchestra Filarmonica, Romania, Shanghai Philharmonic, China, the American Academy of Conducting Orchestra at Aspen, Shreveport Symphony, the Juilliard Symphony, and the New Jersey Symphony.
More