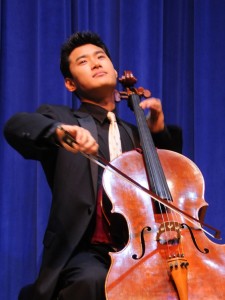 About the Artist
Born in Seoul, Korea, cellist Jonah Kim immigrated to the United States at the age of seven. His father, a pastor at a Korean Presbyterian Church in New York, introduced Jonah to the cello that same year. Despite having no formal musical training, Jonah's father possessed a keen ear for music, and he coached Jonah playing the cello. Jonah figured things out quickly by watching and imitating Pablo Casals from VHS tapes of his performance of Bach's Solo Cello Suites. Within a year, Jonah was accepted to The Juilliard School Pre-College Division with full scholarship where with Ardyth Alton, he began his first professional training, including how to read music.
During his first year at Juilliard, Jonah was unsure whether the cello and classical music were really for him. He was attending a New York City public school, learning to speak English, and adjusting to life in the United States. Jonah and his father wrote to Janos Starker at Indiana University for advice. Starker's invitations for Jonah to perform and study with him for a few months there were pivotal, and inspired the young cellist to continue his studies. Starker later remarked, "Jonah is an exceptional talent. He is at the top of his generation." Two years later, just before his 10th birthday, Jonah was accepted to the Curtis Institute of Music in Philadelphia. During his six years there, he studied under Peter Wiley, Lynn Harrell, and Orlando Cole, who wrote, "[Jonah] is one of the most accomplished cellists I have taught in my 65 years on the Curtis faculty."
He has also participated in master classes with cellists Joel Krosnick, Timothy Eddy, Stephen Isserlis, Gary Hoffman, Marcy Rosen, Andre Diaz, and Ron Leonard, among others. Jonah made his debut with Wolfgang Sawallisch and the Philadelphia Orchestra in 2002 after winning the first prize at the Philadelphia Orchestra's Albert M. Greenfield Competition. He also performed with the National Symphony Orchestra at its pops concert entitled Stars of Tomorrow in 2003, on which Joseph McLellan of the Washington Post wrote "[Jonah] sounded like the next Yo-Yo Ma." Since then, he has performed with Philadelphia Chamber Orchestra, New Philharmonia Orchestra, Atlantic Classical Orchestra, Redlands Symphony, Palm Beach Symphony, and the New Jersey Symphony Orchestra. Jonah gave recitals at the Kimmel Center (Philadelphia), the Kravis Center (West Palm Beach), and the Kennedy Center (Washington, DC). He has also appeared in radio and TV programs at WHYY, WITF, MPBN and WXEL, NBC, and CBS. During summers, Jonah performs and participates in the Atlantic (Maine), Encore (Ohio), Lancaster (Ohio), Killington (Vermont), Sarasota (Florida), and Kneisel Hall (Maine) music festivals. Jonah's passion for chamber music began when he collaborated with his peers at Curtis. He has performed most of the standard piano trio literature with violinist Chen Xi and pianist Yuja Wang. His mentors at Curtis include Joseph Silverstein, Aaron Rosand, Ida Kavafian, Gary Graffman, and Seymour Lipkin, as well as the Guarneri, Emerson, Vermeer, and the Takacs string quartets. Since his graduation from Curtis in spring of 2006, Jonah has been dividing his time between New York City, Prague, and Miami.