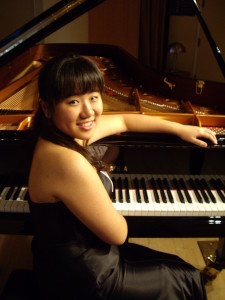 Esther Park was chosen as the 2012 Kennedy Center debut recitalist, but cannot perform because she has been invited to participate in the Leeds Piano Competition. KCS congratulates Esther on this opportunity and is pleased to announce that alternate Irene Kim will perform instead.
About the Artist
Pianist Esther Park has performed as a soloist with orchestras and in recitals across the United States as well as Asia and major European cities. Ms. Park has appeared as soloist with many orchestras such as Houston Symphony, Corpus Christi Symphony, Filharmonia Pomorska, Poland, Orchestra Filarmonica, Romania, Shanghai Philharmonic, China, the American Academy of Conducting Orchestra at Aspen, Shreveport Symphony, the Juilliard Symphony, and the New Jersey Symphony.
Ms. Park gave a five-city recital tour in Korea, and has performed at the Juilliard Theater in NYC, Alice Tully Hall, Lincoln Center, Carnegie Halls' Weill Recital Hall, Salle Cortot in Paris, the New Jersey Performing Arts Center, and on the Kum-Ho Music society's Prodigy Series. She has appeared at the Music Academy of the West (Santa Barbara), the Aspen Music Festival, the Bowdoin Summer Music Festival in Maine, the Tel-Hai International Music Festival in Israel, and the Van Cliburn-TCU Institute in Texas. Ms. Park has been heard in New York on WQXR Radio station as the winner of the 52nd Kosciusko International Competition and the Gina Bachauer Competition.
Ms. Park is the winner of the 2009 "Prix Amadeo" and the 2009 Chopin Gesellschaft Klavierwettbewerb. She is the winner of the 2004 Gina Bachauer Piano Competition at the Juilliard School, the Juilliard concerto competition, and the 52nd Kosciusko International Piano Competition. Ms. Park also received top prizes at the 3rd San Marino International Piano Competition, the 3rd China Shanghai International Piano Competition, the 6th Paderewski International Piano Competition, the National Chopin Competition (USA), Hilton Head International Competition, the 14th New Orleans International Piano Competition and is the recipient of the President Clinton's Prodigy Award.
Born in Pusan, Korea in 1984, Ms. Park began to play in public soon after her first piano lessons at the age of four. Ms. Park moved to the United States in 1995, after being accepted to the Juilliard School's Pre-College division. Ms. Park has received her Bachelor's degree and Master's degree from the Juilliard School, studying with Dr. Yoheved Kaplinsky. Ms. Park also studied at the Hochschule fur Musik und Theater (Hannover) under the tutelage of Bernd Goetzke, and is currently an Artist Diploma candidate at the Yale School of Music under the guidance of Boris Berman. She has performed in master classes of Gary Graffman, Richard Goode, Leon Fleisher, Gilbert Kalish, Joseph Kalichstein, Andrew Litton, Joachin Achuccaro, and Karl Ulrich Schnabel.