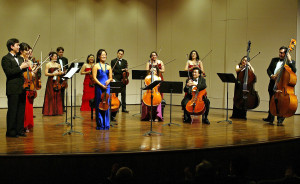 KCS 25th Anniversary Celebration with soloist Chee-Yun, Violin

Oct. 29, 2005

The Kennedy Center

Playbill
About the Artist
Praised as a "top notch conductor-less string orchestra" by the Washington Post, International Sejong Soloists (ISS) was founded in New York City in 1995 and met with immediate success. Since its inception ISS has given more than 200 concerts throughout the United States, Europe, and the Far East. Uniquely comprised of today's leading young soloists, International Sejong Soloists is known for its cohesiveness, beautiful sound, and refreshing musical style in performing string orchestral works as well as solo and chamber repertoire. Its 14 members hail from eight different nations: Australia, Canada, China, Germany, Singapore, Bulgaria, Korea, and the United States. Each has a distinguished reputation as a soloist and chamber musician, confirmed by prize-winning performances at prestigious international competitions (including the Indianapolis, Naumburg, Jacques Thibaud, Paganini, Hannover, and Nielsen competitions). The New York–based ensemble tours worldwide under the musical direction of Hyo Kang, a renowned professor of violin at The Juilliard School.
ISS has given critically-acclaimed concerts at venues such as Carnegie Hall, Lincoln Center's Alice Tully Hall, the Kennedy Center, the 92nd Street Y, Suntory Hall in Japan, Bridgewater Hall in Manchester, England, Seoul Arts Center in Korea, the National Arts Theatre in Taiwan, and in the Rising Stars Series at Ravinia. ISS was appointed ensemble-in-residence at the Aspen Music Festival in 1997, a post it still holds today. It serves as host ensemble of the Great Mountains Music Festival and School in Korea. Continually performing to capacity audiences, ISS has collaborated with artists such as Joshua Bell, Sarah Chang, Kyung Wha Chung, Vladimir Feltsman, Leon Fleisher, Lynn Harrell, Sharon Isbin, Cho-Liang Lin, Carmen Pelton, Gil Shaham, Kyoko Takezawa, and Eugenia Zukerman. The ensemble has been featured regularly on National Public Radio's Performance Today and in November 2003 served as Young Artists-in-Residence for the program. ISS was broadcast live on WFMT in Chicago from the Aspen Music Festival, has been heard on New York's WQXR Radio and WGCU Public Broadcasting in Florida, and has been seen on the Discovery Channel. In December 2002 ISS gave a special holiday performance on CNN's American Morning with Paula Zahn, and on Thanksgiving 2003 the ensemble performed with Ms. Zahn as a special guest on the CNN primetime news program Paula Zahn Now. ISS has been selected to perform in honor of some of the world's premier sporting events. At the invitation of World Cup 2002 committee, ISS performed for the FIFA Congress, which represented 204 nations in Seoul, Korea. In June 2004 the ensemble performed at the Olympic Torch Ceremony at the United Nations Headquarters, as part of the Athens 2004 Olympic Torch Relay.
International Sejong Soloists is known for its breadth of repertoire, which includes well-loved classics and contemporary works written by composers across the globe. The ensemble confirmed their commitment to new works by commissioning Murmurs in the Mist of Memory, a composition by Augusta Read Thomas. The work, for 11 solo strings, was premiered at the Aspen Music Festival in 2001 and ISS gave the piece its UK premiere during the ensemble's European debut at the Manchester International Cello Festival in England in May 2004. ISS has given several additional premieres, including the New York and Aspen premieres of Earl Kim's Dear Linda in 1999 and 2001, the New York premiere of José Bragato's Graciela y Buenos Aires—Concerto for Cello and String Orchestra in 2002, and the New York premiere of Krzysztof Penderecki's Sinfonietta for Strings. ISS recently recorded Sejong Plays Ewazen, works by Eric Ewazen, on the Albany Records label. The ensemble is involved in a vast array of youth development programs designed to both introduce classical music to young audiences and to cultivate promising classical music students. ISS works to expose elementary students to classical music through lecture concerts and demonstrations, in hopes of developing an appreciation for and interest in further study of the genre. In December 2003 at Zankel Hall at Carnegie, ISS performed a family concert of traditional dance music from around the world, hosted by storyteller and spoken word artist Charlotte Blake Alston. Members of the ensemble provide master classes for promising classical music students at high school and college levels while on tour.
International Sejong Soloists enjoys support from major corporations. The Samsung Foundation of Culture extends a generous loan of several instruments to the ensemble: the Guarnerius del Gesù violin "ex-Moeller," Cremona (1725); the Antonio Stradivarius violin "ex-Strauss," Cremona (1708); a Gasparo da Sálo viola, Brescia (ca. 1590); a Matteo Goffriller cello, Venice (ca. 1715); and a Luigi Mantovani bass (ca. 1810). The ensemble has made two recordings for the Samsung Classics label. ISS also performs on a J.B. Guadanini, Cremona, 1758, which is on loan to the ensemble from Mr. Higgin Kim, chairman of Byucksan Engineering. Korean Air is the official airline of ISS. ISS Sponsors include the Republic of Korea's Ministry of Culture and Tourism, Samsung Electronics America, and Korean Air.