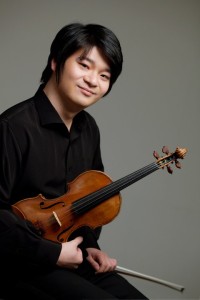 Recital with Anna Balakerskaia, piano

Oct. 2, 2004

The Kennedy Center

Playbill
About the Artist
Born in Seoul, Korea, in 1985, Hyuk-Joo Kwun began violin studies at the age of 3. Three years later, he won a top prize at a local competition sponsored by a music journal. He entered the Korean National Institute of Arts (Seoul) as a student of Nam-Yun Kim at age 6.
Hyuk-Joo began concertizing at age 11 after moving to Moscow to study with Eduard Grach at the Tchaikovsky Central Music School. He was a second prize winner at the 3rd International Tchaikovsky Competition for young musicians in 1997, and performed with the Moscow National Orchestra, the Kremlin Chamber Orchestra, Eurasian Chamber Orchestra, Suwon Symphony Orchestra and in recitals across Russia and in Korea, Israel, Germany, Yalta (Ukraine) and Lithuania, where he was a laureate at the International Festival of Young Musicians from 1997-1999. He was also invited to appear at the International Youth Soloist Festival in Moscow from 1996-1999.
In 2001, Hyuk-Joo graduated from the Moscow Central Music School and entered the Moscow Conservatory, where he today continues his studies with Professor Grach. That October he won the Grand-prix in the Kloster- Schoental Competition in Germany. He was also awarded the EMCY (European Union of Music Competitions for Youth) prize, and an additional prize for best performances of a virtuoso work. He was featured as one of the top violinists of Korea in the "Strad Korea" music journal, and the following year, won the Grand-prix in the 3rd Yampolsky Competition in Russia, winning special notice for his interpretation of Mendelssohn- Yampolsky's Rondo Capriccioso.
Recent appearances include a tour with the Moscow Chamber Orchestra throughout Italy and Russia performing the solo works of Paganini, and performing Mozart with the Korean Symphony in Austria, Slovakia, Italy, Denmark, Spain, Israel, and Moscow. Hyuk-Joo has appeared in the Keshet Eilon violin masterclasses, studying with Maestro Schlomo Mintz, Ida Haendel, Thomas Brandis, and Cihat Askin. In Jan 2004, he was invited by the Kumho Cultural Foundation to appear on their "Rising Star Series", proving himself as a promising young violinist more than a child prodigy.
Next year, Hyuk-Joo will perform recitals in Vienna and Italy, and will appear with the Murcia Symphony in Spain performing Brahms' Double Concerto, the Kiev Symphony performing the Vieuxtemps Concerto No. 5, the Moravian Philharmonic performing Tchaikovsky, and the Nuremberg Philharmonic performing Shostakovich's Concerto No. 1 in Nuremberg and Vienna. He will also record the Ravel and Schumann sonatas for the Universal Korea record label.
Recently Violinist Hyuk-Joo Kwon was the 1st prize winner at the 7th Carl Nielsen Violin Competition 2004 and received the special prizes as a best performer of Denmark Composition and a young popularity vote.
Hyuk-Joo plays an instrument made by Giuseppe Guadanini, a loan from the Kumho Cultural Foundation, which has also provided him with scholarships to study abroad since 1999.